Compare Bear Mauler Compound Bow with other bows: See other Compound bows for sale
Bear Mauler bow for sale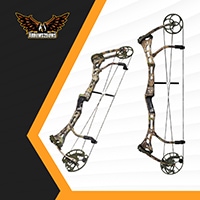 Brace Height: 6.75 "
Axle to Axle Length: 31.25 "
Draw Length: 26 " - 31 "
Draw Weight: 50 lbs - 70 lbs
IBO Speed: 328 fps
Weight: 3.9 lbs
Mauler reviews
While hunting as a hobby has been around for a while now, the tools used for it have totally changed and have become more advanced and better equipped to make accurate shots. Compound bows like the Bear Mauler are a good example of this. It is strong, durable, easy to use, and enhances the performance of hunters who choose it.
Things to consider before buying
The Bear Mauler compound bow is one of the best bows with regards to efficiency, speed, and lightweight technology. It offers shooters various features that provide them with great value. The following features will help you decide if the Mauler is the right bow for you:
Comfortable grip
The Bear Logo Slim-Grip not only provides a comfortable position for cradling the shooter's hand, it is made of a synthetic material that provides warmth when you are out in the field on cold days. Another comfort factor that makes this bow very popular among shooters is the overall low weight of just 3.9 lbs. 
E-Cam
The Bear Mauler features E-Cam, which is the most efficient and smoothest designed by Bear. It channels all the energy to the arrow, thus ensuring maximum kinetic energy down-range. This helps to increase cable life and decrease friction during the draw. Moreover, it can be easily adjusted without the help of a bow press. 
Stealth
The element of surprise is very important for a bowhunter as it could make the difference between a successful and an unsuccessful hunt. However, the Bear Mauler, with its 4-inch axle-to-axle length and a depth of 11 inches does not compromise on stealth. Its generous maneuverability ensures that you do not spook the game by hitting the cams and limbs on treestand rails, branches, etc. 
Pros
Smooth and efficient single cam
High quality strings eliminate peep rotation and string stretch
Quiet and deadly
Excellent performance at a very economical price
Cons
Available in only one color
Back wall could be better
Final thoughts
The Bear Mauler compound bow is a high-performing beauty that is designed for serious bowhunting adventures. It is designed with vibration dampening boots and dual arc offset string compressors that provide shooters with a smooth, silent, and shock-free performance. Styled with a parallel limb design and RealTree camouflage, this lightweight and short compound bow is bound to give you an accurate soundless shot every time.
Video Review
Specifications for the Bear bow: Mauler
| | |
| --- | --- |
| Brace Height | 6.75 " |
| Axle to Axle Length | 31.25 " |
| Draw Length | 26 " – 31 " |
| Draw Weight | 50 lbs – 70 lbs |
| IBO Speed | 328 fps |
| Weight | 3.9 lbs |
| Let-Off | 80% |
3 quick questions about Bear Mauler
Are Bear Mauler bows made in America?
How much does a Bear Mauler bow cost?
Do you need a license to own a Bear Mauler bow?
More about bows online
Bear bows for sale
The bow certainly resembles a Hoyt with its distinctive riser design. It also comes in a number of finishes with the most popular finishes being RealTree Xtra camo as well as shadow, sand and olive. Bear's whitetail hunter compound bow is quite a versatile bow that is chiefly liked and used by the hunters due to its attractive capabilities.
[collapse]
https://arrows2bows.com/wp-content/uploads/2019/12/1-300x138.png
0
0
superadmin
https://arrows2bows.com/wp-content/uploads/2019/12/1-300x138.png
superadmin
2019-12-03 12:09:59
2020-02-03 16:38:57
Bear Mauler Compound Bow